May 17th, 2006: 26th Anniversary of the Initiation of the People's War in Peru
Twenty-six years ago, the Communist Party of Peru launched a tremendous blow for communism and revolution, and against imperialism, by launching revolutionary war. There have been many twists and turns since that time, but the struggle of the revolutionary forces under the leadership of the PCP has been an experience of supreme sacrifice and heroism. The contribution of the PCP to the international communist movement cannot be underestimated. It provided critical ideological leadership at a time of confusion and disarray stemming from the loss in China following the death of Mao Zedong.
Below are Peruvian revolutionaries during the 1980's.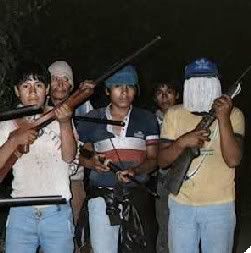 "Communist Party of Peru (PCP)" Pro-"Peace Accord" Faction Favors Alan Garcia for President
Unfortunately, since "peace accords" were proposed by a group within the PCP in 1993, the unity of the PCP was shattered, and multiple groups claim leadership in the name of the Party.
An underground representative of the "PCP" pro-"peace accord" faction gave the French news organization AFP a statement. Gabriel Uribe, "PCP south-central committee spokesperson" said, "It is our fervent desire that the black campaign against Humala crushes him at the ballot box so that he and his followers are driven to our camp." He articulated the belief that Garcia's reign would reignite the crises of bureaucrat-capitalism - the ones that in 1993 PCP leader Abimael Guzman allegedly praised Alberto Fujimori for mitigating.
The speaker further intoned: "It is not in our plans to retake to arms." Uribe said that, now, armed struggle in Peru is "a burden for the people." He further insisted that the Peruvian state accept the nearly 13-year old "peace proposal" allegedly put forth by Abimael Guzman, which would declare amnesty for all revolutionary prisoners of war and political prisoners. Yes, war is a "burden." But so are imperialism, feudalism, and bureaucrat-capitalism.
Below, the banner behind Gabriel Uribe calls for a "political solution to the problems derived from the internal war." Now they do not even call it a people's war. It is Mao Zedong, appearing on a poster behind Uribe, who said that to bury the gun it is necessary to pick up the gun.
Link
Link