Maoist Mass Rally Mobilizes Hundreds of Thousands in Katmandu
Party workers prepare for today's great rally by decorating the capital with the working people's flag.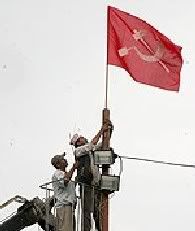 Party workers cover the city with posters heralding the victories of the people's war and the democratic movement. Comrade Prachanda is seen in the posters.
The Nepalese youth were prominent in organizing for the success of the rally. Organizers wore t-shirts bearing the image of Party leader Comrade Prachanda.
Today's rally was attended by more than 200,000 people, according to bourgeois news media.
The Party flag belong's not only to the working people of Nepal, but to those of the whole world.
Comrade Mahara, the Communist Party of Nepal (Maoist) chief negotiator, addressed the mass rally. He warned against plots to restore the autocratic monarchy, and to scuttle the people's demand for a constituent assembly to determine the destiny of Nepal.
The revolutionary Nepalese people are filled with determination to forge a new Nepal, free of national, class, and gender oppression, in the service of the world revolution.